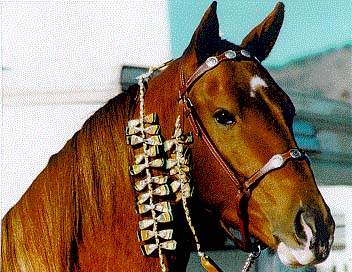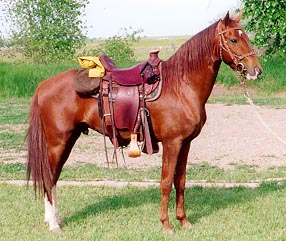 Our Retired Stud
Mountain Magic Trail Diamond C.
Missouri Fox Trotter Stallion
MFTHBA #94-43380
Red Sorrel
Blue papered
1st 1996 RMFTA 2-3 yr. olds Model
The Missouri Fox Trotting Horse
People in the Ozarks have bred horses for the Fox Trot gait for over 150 years. They prized the diagonally based soft gait for its sure-footedness and ease of going in rough country.
A stud book, organized in 1948, was the forerunner of what later became the Missouri Fox Trotting Horse Breed Association. Up until 1982 any horse, regardless of ancestry, could be registered with the MFTHBA by demonstrating the ability to Fox Trot.
Since the books were not closed until 1983, and the breed was developed for the gait, not for a conformational ideal, Fox Trotters come in all shapes, sizes, and colors. If you have a favorite breed, you can probably find a Fox Trotter of similar type.
People tend to associate specific gaits with certain breeds; horses, however, do a variety of gaits. While Fox Trotting Horses are shown in a Flat Foot Walk, a Fox Trot, and a Canter, individuals within the breed can also do some, or all, of the following gaits: Walk, Stepping Pace, Running Walk, Rack, Gallop, Hard Trot, and Hard Pace.
Offspring of Mountain Magic Trail Diamond C.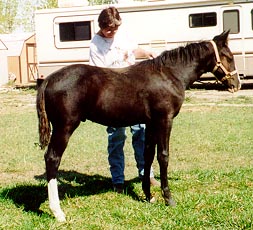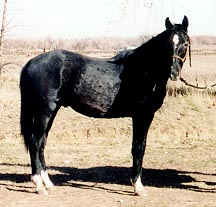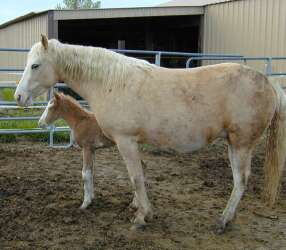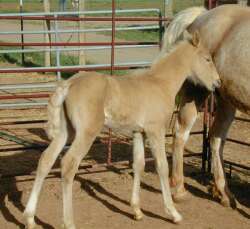 Mountain Magic Ranch stresses: Safety, Balance, Communication and Unity.