Andrews nontraditional approach to training horses develops a relationship with a horse based on trust, understanding, and communication. It comes from adjusting to fit the individual horse you are dealing with at any particular moment. "If it were possible," says Joe, "I would sit down with you on a grassy hillside in the warm afternoon sun and swap stories about the horses we have ridden. Short of that, I offer you the stories in this book," because the best way to explain is to share actual experiences.
Some of those experiences include:
Learning how horses tell us when they are ready for the next step
Developing a horse's ability to understand the trainer's intent through feel
Taking a foal from panic to understanding
Using different approaches to find the solution to a particular problem
ANDREWS trains horses professionally and raises Missouri Foxtrotters at their Mountain Magic Ranch in Colorado. Both he and his wife, Kim, also give lessons.
Joe specializes in teaching groundwork using pressure and release methods, and also conducts trail clinics. He has been published in Trail Rider magazine and other publications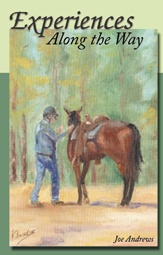 Read selected chapters from Experiences Along the Way
Mountain Magic Ranch stresses: Safety, Balance, Communication and Unity.